Page 2 - Pichwai Collection - SS19
P. 2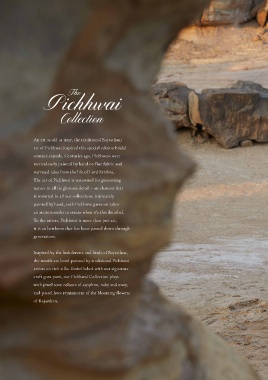 An art as old as time, the traditional Rajasthani
                art of Pichhwai inspired this special edition bridal
                couture capsule. Centuries ago, Pichhwais were

                meticulously painted by hand on fine fabric and
                narrated tales from the life of Lord Krishna.
                The art of Pichhwai is renowned for presenting
                nature in all its glorious detail – an element that

                is revisited in all our collections. Intricately
                painted by hand, each Pichhwai garment takes
                an artist months to create when it's this detailed.
                To the artists, Pichhwai is more than just art,
                it is an heirloom that has been passed down through

                generations.


                Inspired by the lush forests and birds of Rajasthan,
                the motifs are hand painted by traditional Pichhwai

                artists on rich silks. Embellished with our signature
                craft gota patti, our Pichhwai Collection plays
                with jewel tone colours of sapphire, ruby and onxy,
                and pastel hues reminiscent of the blooming flowers
                of Rajasthan.